The Haida people have thrived on these Islands known as Haida Gwaii - "Islands of the People" for thousands of years. An amenable climate and an abundance of natural resources allowed them to develop a complex society and unique architecture and art forms that were in complete harmony with their environment. Renown master mariners, they developed magnificent ocean going canoes to harvest bountiful marine resources and travel to trade with other nations on the BC coast. Contact with Europeans, beginning with Juan Perez in 1774, initiated a period of dramatic change for the Haidas. The sea otter trade from 1774 to 1830 brought a tremendous expansion of material wealth (at the expense of the complete extinction of the sea otter population) which stimulated a rapid evolution of cultural activities such as totem pole carving and potlatching.
The scourge of smallpox and measles from 1832 on and particularly in 1862, decimated the Haida causing a precipitous population decline from an estimate of 7000 in 1835 to 700 fifty years later. Most villages were largely abandoned by 1890 and the remaining population consolidated in the two Haida villages of today, Skidegate and old Massett. After a long period of cultural collapse and assimilation, the Haida people have once again become a strong and creative force and have reclaimed their cultural heritage though the vibrant rebirth of dance and carving traditions.
Following a centuries old tradition of Haida Watchmen (warriors who defended their Island shores), the present Haida Gwaii Watchmen serve as guardians of the major village sites throughout Gwaii Haanas. No longer "warriors", they are today hospitable and gracious hosts who welcome you to their villages and help us to understand their cultural traditions. Watchmen reside May through September in the main village sites of Gwaii Haanas: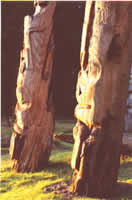 K'una (Skedans) Grizzly-bear-town
As with all Haida villages, the site is spectacular. Facing south on a long isthmus jutting out into Laskeek Bay, the location offered the Haidas everything they needed: close proximity to plentiful seafood, good visibility and ability to respond to attack, and a great beach to launch and retrieve their monumental canoes. Several standing poles, in varying states of decay, remain here. K'una is perhaps the most poignant of all villages in southern Haida Gwaii, leaving visitors with a compelling awareness of the transitory presence of all cultures and their artifacts.


T'anuu (Tanu) Sea-grass-town
This majestic Eagle Crest village is located on the eastern shore of Tanu Island in close proximity to the bountiful seafood resources of Laskeek Bay. Today it has a peaceful yet haunting presence with huge moss covered Sitka Spruce returning the ancient village to it's original verdant state. Although most of the poles were removed early in the century, it is very easy to imagine T'anuu as the complex and vigorous community it was, as you walk among the remains of fallen poles and long houses.


Hlk'yaah (Windy Bay)
Primarily a traditional Haida summer and fall food gathering camp, it now features a monumental (but modern!) "long house". A spectacular walk along Windy Bay Creek leads you through a pristine ancient rainforest with immense Sitka spruce and cedars. Fine examples of "culturally modified" cedar can be found here as the Haida obtained bark and building materials for canoes and houses.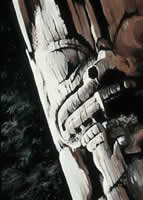 Gandla K'in (Hotsprings Island)
Close by is Ata'na Island (House Island) with an old village site situated in a cove on the west side. One can't help but think that these Haida must have been the chosen ones with such easy access to an endless supply of hot running water! Life doesn't get better than when relaxing in the hot pools watching the sun set over Quan Perez Sound - woops! No more hot pools! Bummer! As you have no doubt heard, a 7.7 quake in October 2012 turned off the tap. Everyone has their fingers crossed that the healing waters will miraculously come back but as of now…, there's a beautiful island, with wonderful Haida Watchmen and beautiful trees, beaches and sunsets….but no hot water.


Sgaang Gwaii (Anthony Island) Wailing Woman Island
Undoubtedly the most spectacular of the village sites you will have an opportunity to visit. In consultation with the Haida people, UNESCO declared Nans Dins village (Ninstints) a World Heritage Site in 1981. Numerous poles still stand, evoking a strong presence of past spirits. At Sgaang Gwaii more than anywhere, it's evident how finely adapted the Haida people were to their environment. Beyond mere survival, the people of Sgaang Gwaii flourished and developed a complex and creative culture on a small island exposed to the formidable power of the Pacific Ocean.